Outdoor Yoga will be back in May 2023!
We're offering a number of outdoor yoga classes each week on the spacious, shaded deck at our new location at 9 Samuel St.
If you're looking for Yoga in the Park, go here.
Reserving a spot in an Outdoor Class
Passes: You can use any of our in-person yoga passes or membership to attend. If you had passes from before the pandemic, you're welcome to use them! We also have great membership options and we offer sliding-scale drop-in rates for low-income folks. 
Reservations: Spots are limited, sign up early to avoid disappointment. If classes aren't full, you can try dropping in. Pro Tip! You can manage your bookings in our Mindbody Online booking system by clicking here, or download the Mindbody Online booking app for Apple or Android.
Outdoor Bad-Weather: In the event of rain or extreme heat warnings, we'll just head inside to the indoor studio.
Outdoor Class Cancellation Policy: Please cancel your reservation 3 hours in advance if you can no longer attend an in-studio or outdoor class. This will ensure your account will not be charged and allows someone else to fill that spot. If you cancel less than 3 hours in advance your account will be charged for the class.
Waitlist Policy: If a class is full, try for a spot via the Waitlist! If someone cancels, you'll be notified via email and text message. Make sure you've enabled "Reminders and schedule changes" notifications in your account profile to ensure you receive this message, and let us know right away if you no longer want the spot.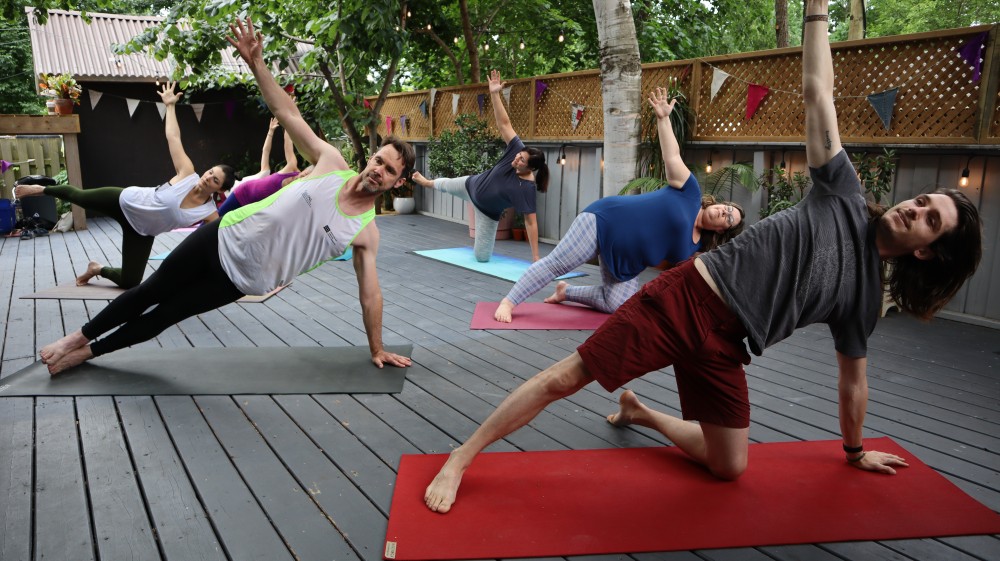 Location: The Branches @ 9 Samuel Street. Enter the front door to check in, and then head out the back door to the deck.
Parking/Biking: 2-hour free street parking is available along Samuel and surrounding residential streets. Yoga clients can also park 4 deep in-tandem on the left driveway. A bike rack is available in our driveway, please lock your bike. Be careful not to park in front of a residential driveway or in a private lot.  
Bring: Bring your own water bottle and dress in layers. Our deck is partially shaded, so you may want a hat or sunscreen. Please bring your own mat if possible.